MacLeonard CS1030 Forged Irons (5-PW) RH only, component only £199, built from £399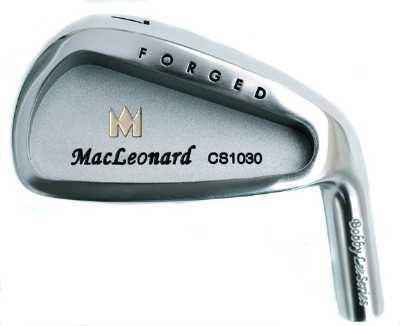 The CS 1030 Bobby Lee series is the pride and joy of MacLeonard Golf, and we love custom building them. The heads are multi forged from the finest carbon steel billet, eliminating the tiniest pockets of gas often overlooked by many manufacturers. The face is meticulously milled to a micro flat surface, ready for CNC machining of the grooves, followed by cavity routing to produce perfectly weighted and balanced irons.
The hosel is also machined with a secondary weight chamber as used by advanced club-builders for very accurate balance and swing-weighting. Bright-work is a multi layer satin chrome plate, The CS1030 is produced in sets of either 3 to PW, or 5 to PW.
Specifications of CS1030 Irons
Any Questions Regarding The Specifications Available Please Call or Use Our Contact Form.
Choose Head Only or Built and Ready to Play.
Heads Only £199.00
Complete Set With True Temper Shafts Ready To Use From £399.00
Why Buy From MacLeonard Golf
You can have a standard club or have it customised meaning
Adjusted for you.
If you are starting out in you golf journey then possibly the standard fittings will be OK to start with. For a man the standard golf club is designed for someone who is 5'10. The further away you are from that standard the more you will benefit from a customised club.
Why are some clubs so much more expensive?
Big brands spend a lot of money on promotion which adds hugely to the cost of their product. Here at MacLeonard we have low overheads, we do not sponsor tour players and in turn we pass those savings on to you.
All clubs come with a 12-month guarantee.
Shop In Person – Welcome
Visitors are welcome – if you are looking for a fitting – please telephone to arrange an appointment to ensure we can provide you with a first class service.