Sukira Pro V2 irons (5-PW) RH only, heads only £300, built from £599 = 6 irons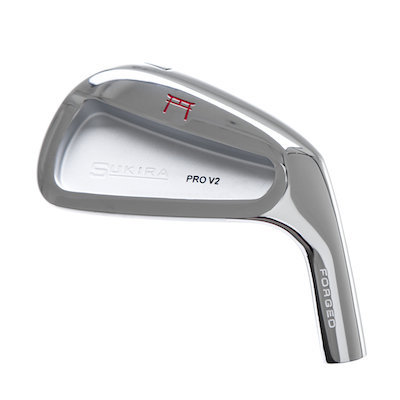 The PRO V2 irons are the jewel in the crown for Sukira. Forged from a billet of low carbon steel, they are machined to within minuscule tolerances, and are one of the finest irons you will find. The greatest care is taken when cutting the grooves, which do conform with USGA and R&A 2010 rules. The Pro V2 has a slightly more pronounced toe than the former PRO V1 model, but the greater percentage of the weight is still well below the meridian and deep in the sole. The top line thickness has also been reduced and is thinner than the former. The moment you grip and waggle these irons, they just ooze quality.
Now sporting a mirror finish multi layer chrome plate.
Sukira Pro V2 irons played by Richard Gurney to win the (Tour Professionals) TP Tour at Walton Heath, March 2013
3 Iron
4 Iron
5 Iron
6 Iron
7 Iron
8 Iron
9 Iron
PW
Loft
21*
24*
27*
31*
35*
39*
43*
47*
Lie
59.5
60
60.5
61
61.5
62
62.5
63
Offset
3.9
3.4
2.9
2.4
1.9
1.4
0.9
0.4
Length (Steel Shaft)
39"
38.5"
38"
37.5"
37"
36.5"
36"
36"
Length (Carbon Shaft)
39.5"
39"
38.5"
38"
37.5"
37"
36.5"
36.5"
Swing-weight
D1-D4
D1-D4
D1-D4
D1-D4
D1-D4
D1-D4
D1-D4
D1-D4
Any Questions Regarding The Specifications Available Please Call or Use Our Contact Form.
Choose Head Only or Built and Ready to Play.
Heads Only £300.00
Complete Set With True Temper Shafts Ready To Use From £599.00
Why Buy From MacLeonard Golf
You can have a standard club or have it customised meaning
Adjusted for you.
If you are starting out in you golf journey then possibly the standard fittings will be OK to start with. For a man the standard golf club is designed for someone who is 5'10. The further away you are from that standard the more you will benefit from a customised club.
Why are some clubs so much more expensive?
Big brands spend a lot of money on promotion which adds hugely to the cost of their product. Here at MacLeonard we have low overheads, we do not sponsor tour players and in turn we pass those savings on to you.
All clubs come with a 12-month guarantee.
Shop In Person – Welcome
Visitors are welcome – if you are looking for a fitting – please telephone to arrange an appointment to ensure we can provide you with a first class service.