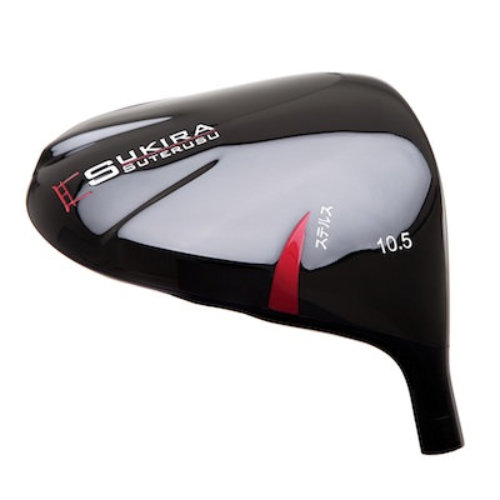 The Sukira Suterusu Driver is available on special offer for £199, fitted with a Japanese Fujikura Graphite shaft.
If you prefer us to build to your own specs, we supply many upgrade shafts, from both Fujikura and UST Mamiya.
Component heads are available to professional club-fitters for £129.
The Suterusu driver by Sukira, has been in the making for over two years. All tooling was made from scratch, to create this perfectly balanced three piece driver, forged from high grade titanium. Each piece is made to such tight tolerances that it enabled us to plasma weld the joints with cotton thick rod, for a distortion free fabrication. Both the sole plate and face are of variable thickness, which allows the engineers to locate the weight where it will benefit both the center of gravity and its inertia most. The 460cc Suterusu driver conforms to the USGA & R&A Rules.
This method of construction is quite a departure for Sukira, who have always followed the more expensive method of casting the main shell as a one piece unit then plasma welding the face to the shell. However according to Suzuki Akira (engineer) this is as good as it gets with this type of fabrication. Following extensive testing (hitting a ball 6,000 times at 125 mph) the Suterusu still performed with the same accuracy and sound as the 1st strike.
Loft +/- 0.5
Lie +/- 1*
Weight +/- 3g
Size cc
Swing weight

Length
Men's
Ladies
9.5
60
198g
460cc
D0 to D4
45″
44″
10.5
60
198g
460cc
D0 to D4
45″
44″
Choose from 9.5, 10.5 RH lofts – sorry no left-hand heads
RH Head & Head Cover
Head & Head Cover Only £129
RH Complete Club Ready To Use
Head & Head Cover With UST or Graphite Shaft From £199
Why Buy From MacLeonard Golf
You can have a standard club or have it customised meaning
Adjusted for you.
If you are starting out in you golf journey then possibly the standard fittings will be OK to start with. For a man the standard golf club is designed for someone who is 5'10. The further away you are from that standard the more you will benefit from a customised club.
Why are some clubs so much more expensive?
Big brands spend a lot of money on promotion which adds hugely to the cost of their product. Here at MacLeonard we have low overheads, we do not sponsor tour players and in turn we pass those savings on to you.
All clubs come with a 12-month guarantee.
Shop In Person – Welcome
Visitors are welcome – if you are looking for a fitting – please telephone to arrange an appointment to ensure we can provide you with a first class service.