ACCRA FX 3.0 200 Series – Mid Launch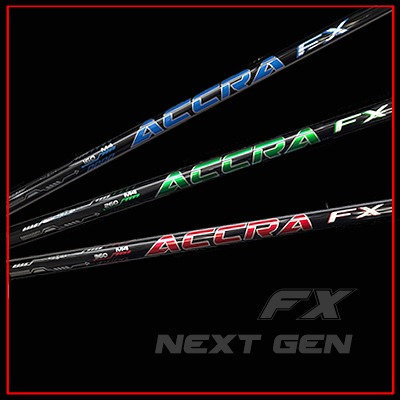 ACCRA is synonymous with professional fitting and the ACCRA Fx line has defined fitting more than any shaft model ever developed in the golf shaft industry.
ACCRA Fx has evolved! fine tuning the ultimate fitting line of shaft with a new design, exciting new graphics and 3 distinct profiles to enhance the fitting process.
Each series incorporates a unique profile designed specifically for individual swing eccentricities. Not only does Fx 3.0 offers 3 unique launch conditions, utilizing S3 shaft blueprinting technologies and EI analysis, we achieve this with three designs.
Fx 3.0 100 Series – High launch
Fx 3.0 200 Series – Mid Launch
Fx 3.0 300 Series – Low Launch
There is no doubt that a professionally fit golf shaft can out perform "off the rack" shafts, the Fx 3.0 line of shafts empowers the world's best club fitters with the tools to dial in the club fitting process to a greater extent than ever before.
Each Fx 3.0 Series, offers multiple weight options for driver shafts combined with dedicated Fairway Wood and Hybrid shaft featuring ACCRA's proprietary DyMatch* Technology (DymTec):
| Model | Type | Flex | Mass | Balance Pt. | S3 Launch | Butt Ei | Mid Ei | Tip Ei | S3 CPM | Torque | Butt OD | Tip OD | Length | Price |
| --- | --- | --- | --- | --- | --- | --- | --- | --- | --- | --- | --- | --- | --- | --- |
| FX 3.0 250 | Driver | M3 | 54.0 | 24.0 | 10.5 | 75.0 | 45.2 | 24.0 | 244 | 4.0 | 0.600 | 0.335 | 46 | £175 |
| FX 3.0 250 | Driver | M4 | 56.0 | 24.0 | 10.5 | 81.0 | 50.£175 | 27.0 | 260 | 3.8 | 0.600 | 0.335 | 46 | £175 |
| FX 3.0 260 | Driver | M3 | 60.0 | 24.0 | 10.5 | 69.0 | 45.0 | 23.0 | 244 | 4.0 | 0.600 | 0.335 | 46 | £175 |
| FX 3.0 260 | Driver | M4 | 63.0 | 24.0 | 10.5 | 81.0 | 55.0 | 28.0 | 260 | 3.5 | 0.600 | 0.335 | 46 | £175 |
| FX 3.0 260 | Driver | M5 | 63.0 | 24.0 | 10.5 | 90.0 | 57.0 | 28.0 | 27£175 | 3.5 | 0.600 | 0.335 | 46 | £175 |
| FX 3.0 270 | Driver | M4 | 70.0 | 24.0 | 10.5 | 83.6 | 54.0 | 28.0 | 260 | 3.5 | 0.600 | 0.335 | 46 | £175 |
| FX 3.0 270 | Driver | M5 | 70.0 | 24.0 | 10.5 | 90.0 | 58.5 | 28.0 | 27£175 | 3.5 | 0.600 | 0.335 | 46 | £175 |
| Model | Type | Flex | Mass | Balance Pt. | S3 Launch | Butt Ei | Mid Ei | Tip Ei | S3 CPM | Torque | Butt OD | Tip OD | Length | Price |
| --- | --- | --- | --- | --- | --- | --- | --- | --- | --- | --- | --- | --- | --- | --- |
| FX 3.0 200F | FWY | M3 | 71.4 | 23.0 | 11.0 | 76.0 | 46.0 | 21.5 | 246 | 3.8 | 0.600 | 0.335 | 44 | £125 |
| FX 3.0 200F | FWY | M4 | 74.4 | 23.0 | 11.0 | 86.0 | 53.0 | 22.5 | 260 | 3.8 | 0.600 | 0.335 | 44 | £125 |
| FX 3.0 200F | FWY | M5 | 76.5 | 23.0 | 11.0 | 93.0 | 59.0 | 23.5 | 275 | 3.9 | 0.600 | 0.335 | 44 | £125 |
| Model | Type | Flex | Mass | Balance Pt. | S3 Launch | Butt Ei | Mid Ei | Tip Ei | S3 CPM | Torque | Butt OD | Tip OD | Length | Price |
| --- | --- | --- | --- | --- | --- | --- | --- | --- | --- | --- | --- | --- | --- | --- |
| FX 3.0 200H | Hybrid | M3 | 83.8 | 21.5 | 11.4 | 72.4 | 46.1 | 24.8 | 265 | 2.6 | 0.600 | 0.370 | 42 | £125 |
| FX 3.0 200H | Hybrid | M4 | 86.0 | 21.0 | 11.4 | 85.0 | 49.0 | 30.0 | 280 | 2.6 | 0.600 | 0.370 | 42 | £125 |
| FX 3.0 200H | Hybrid | M5 | 84.0 | 21.0 | 11.5 | 92.3 | 53.3 | 29.2 | 290 | 2.4 | 0.600 | 0.370 | 42 | £125 |